Date/Time
Date(s) - Sunday, October 4, 2015
7:30 pm - 10:30 pm
Location
The Gladstone Theatre
Categories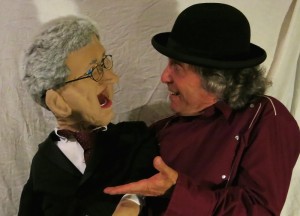 starring James Gordon
One night only!
This Sunday, October 4 at 7:30 pm
Doors open at 7:00 pm
The Gladstone Theatre
910 Gladstone Ave. (at Preston), Ottawa
Tickets: $20 at the door. Advance tickets $20 available online at www.folkzone.ca
The Gladstone Theatre is wheelchair accessible.
James Gordon is touring Canada with "Stephen Harper: The Musical", a piece of musical theatre that examines the Canadian political climate at this critical juncture. He deftly combines original songs, humour, projected images, political commentary and audience participation with an activist's passion to examine where we are and where we can go as a nation.
The timing is right for this innovative work, as many Canadians are feeling that their voice is not being heard under the "Harper Government". What can be done about this? This enjoyable, engaging theatrical experience has some answers!
James Gordon is a Guelph-based singer-songwriter who has recorded 40 albums during an international career that spans 30 years. In addition to his solo career, he has worked with folk trio Tamarack for 30 years to write, perform and record songs about Canada's heritage. James honed his comedic skills during 12 years as a resident songwriter with CBC Radio shows "Basic Black" and "Ontario Morning".
James Gordon's work has established him as a skilled playwright with a knack for using musical theatre as a vehicle for pointed social commentary. "Hardscrabble Road" deals with homeless and globalization issues; "Nastee Business" is about the bottled water scam; and "Tryst And Snout" is a hillbilly adaptation of "A Midsummer Night's Dream".
Facebook event: <TBA>
Video links:
In the Dying Days of the Empire of Oil – http://www.youtube.com/watch?v=HujegL9kuWc
We respectfully acknowledge that this event will take place on unceded Algonquin territory.
Bookings
Online bookings are now closed for this event. Tickets can still be purchased at the door.