2010 Colleen Peterson Songwriting Award
2009 Canadian Folk Music Award Nominee
2009 Kerrville New Folk Finalist
2008 Mountain Stage New Song Regional Finalist
2006 OCFF "Songs from the Heart" Blues Award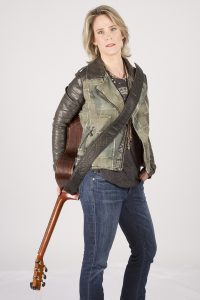 Some have referred to Lynne Hanson's music as Americana and "rough-around-the-edges folk", but she prefers the phrase, "porch music with a little red dirt."
Lynne grew up in Ottawa and starting playing guitar when she was 14, learning on a hand-me-down from her older brother. She released her award-winning debut album – "Things I Miss" – in 2006, and more albums followed: "Eleven Months" (2008) and "Once the Sun Goes Down" (2010). Each new release garnered critical praise, earning her a Canadian Folk Music Award nomination in 2009, an invitation to the Kerrville Folk Festival as a New Folk Finalist, and the prestigious Colleen Peterson Songwriting Award from the Ontario Arts Council. "River Of Sand" (2015) was produced by Juno-winning singer-songwriter Lynn Miles. "The songs on this record are honest and fearless," says Miles. The 11 songs paint a candid canvas of whiskey-soaked heartbreak and personal struggle, contrasted with the hope that better times are ahead.
Lynne has toured toured Canada, the US, Europe and the UK. Her live performances are polished and highly engaging, whether playing solo or with her band, The Good Intentions. Lynne has toured in support of Grammy-nominated songwriters Gretchen Peters and Steve Forbert, as well as Grammy Award-winning guitar legend Albert Lee, who says, "She is a fine composer of interesting songs and performs them very well. She's always welcome on any of my shows."
The Penguin Eggs jury placed Lynne's "River of Sand" album, produced by Juno winner Lynn Miles, in the Top 10 for 2015. Her latest album, entitled "Uneven Ground", was produced by Scott Nolan and will be released in 2017.
Website: www.lynnehanson.com
YouTube: www.youtube.com/plhanson